The heat cutter for beginner.
Ravia V-line trimmer "Heat cutter Putico"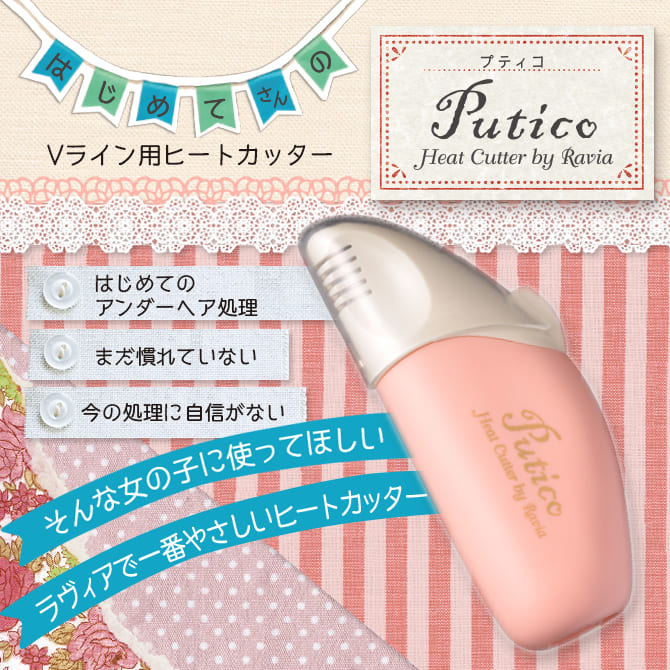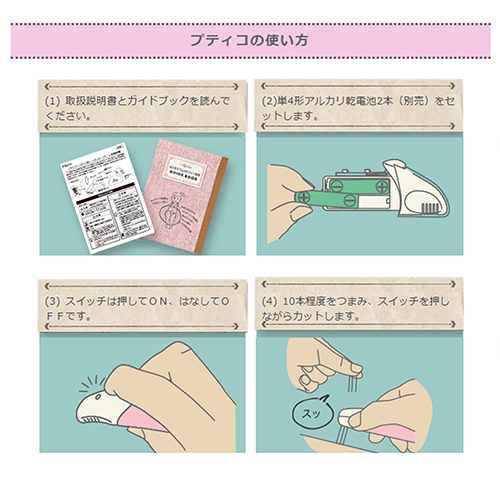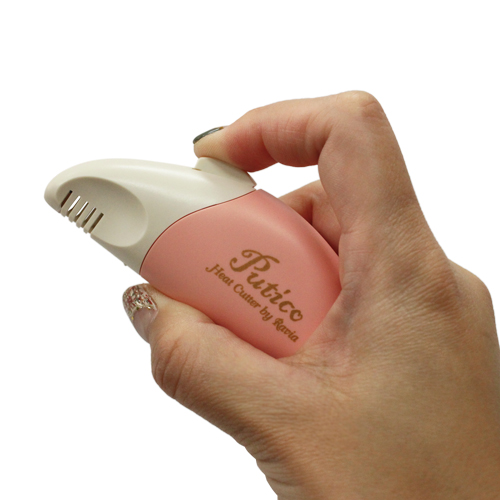 Even if you are not accustomed to pubic hair treatment, it is a safe and easy-to-use cutter.The six major elements for the beginner's girl which anxiety of pubic hair processing are supplemented.
Part 1: Do not know how to treat with pubic hair.
Answer: A manual with many pictures is included
Part 2: Worried about the injury because it is a delicate part!
Answer: Made by a Japanese manufacturer with a proven track record more than 20 years with a safe heat cut method!
Part 3: If it fails it can not be irrevocable
Answer: Failure prevention design!
Part 4: Is it expensive?
Answer: this is a cheapest price in Ravia series.
Part 5: Want to quit when it's difficult to use
Answer: Very easy to use.
Part 6: I do not want erotic package.
Answer: Package is very cuddy.
Putico will cheer for girls' pubic hair treatment debut.
5001-34 Tax excluded JPY2,650

Ravia V-line trimmer "Heat cutter Putico"の特徴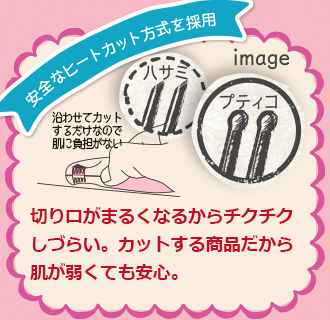 Safe system of heat cut.
Because it burns with heat, the edge of the cut hair will be circular.
Heat wires are covered with comb parts and are safe since they do not touch the skin directly, even if the skin is weak.
It is a Japan made reliable technology of Ravia which has handled pubic hair treatment products for 20 years more.
Compared to hair cut with scissors producing hair with sharp tops, the cut finish is smooth without too much of a tingling feeling.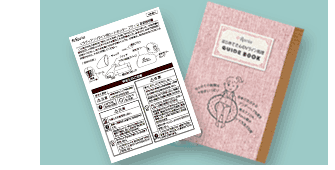 A manual with many pictures is included.
A beginning guide book of caring pubic hair is included.
The picture and cartoon explain easy-to-understand way with Putico.
If done in order, you can easily treat pubic hair with a heat cutter.
Also, basic notes to be known are listed in it.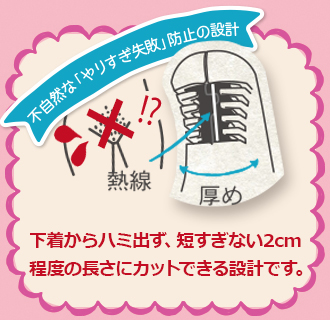 It will not become unnatural

Ravia V-line trimmer "Heat cutter Putico"製品仕様
Product name

Ravia V-line trimmer "Heat cutter Putico"

Item Number

5001-34

Power supply

Use AAA alkaline batteries (sold separately)

Continuous use time

Around 15 minutes(Use of new batteries)

Weight

Around 26g(Battery not included)

Main material

ABSresin(Comb part:PCresin)

External dimensions

Around 95×27×37mm

Accessories

Cleaning brush, A beginning guide book

Operating temperature limit

32~104°F

Instruction manual

Attached(Warranty period: Japan limited for one year / warranty card included.)

Repairing

Repairable (optional depending on fee)

Country of manufacture

Japan

Price (tax excluded)

¥2650

Caution

※It can cut to length of about 1 cm.
※Pubic hair is different from person to person. Therefore, there are individual differences in the effect after use.
※The battery is sold separately. Please use two AA alkaline batteries.
There is a big difference in the ability to cut depending on the remaining capacity of the battery. We recommend using a new battery.
※Continuous use time is about 30 minutes with new batteries.
If you do not use it for a while, please remove the battery and keep it.
When thinking that sharpness has become worse, please put a new battery first and try.
If it is used with bad sharpness, it may cause failure.
※Please use after confirming the instruction manual of the product carefully.
※Request for warranty card.
If you do not have a store sign in the warranty card after purchasing, please write it yourself.
Since the warranty card is also used to confirm that it is our product, please keep it carefully even after the warranty period expires.
We are requesting presentation at repair and replacement.

よくあるご質問